LOOK LIKE US 💋
Check out how stoked Mel Beale and Christa are.... 💋 💋
Now.... IF YOU WANT THE KIT... just click here.
IF YOU WANT TO LOOK LIKE US FROM HEAD-TO-TOE, HERE'S WHAT WE GOT: We have socks. We have caps. We have gloves. AND NOW.... we have taller socks, baselayers and THE LA SWEAT FANCLUB KIT, for sale - well the kit is pre-order! But yeah bro, we are super excited to be able to offer up these to you, so here's a run down of how you can get sweaty in LA Sweat gear.
TALL SOCKS:
You know what these are, they are basically exactly like the socks pictured below, but taller. Basically, we have some super shorties (me included) on the team that were like, hey can we get some small socks that don't end up being knee-highs? And then the tall people, like Kelli and Erin and well, everyone but Christ and I, were like.. um, can we get some socks that aren't ankle socks and look SUPER P-R-O?! So now you can look super fly in these tube-sock inspired tall socks.
Oh hello! This is Castelli's incredible baselayer with our motto, "SWEAT" across the chest. It'll give you that secret pop of EFF-YEAH under your kit, and will keep you cool when you're hot and hot when you're cold. Plus they look stunning and they support our team.
THE LA SWEAT FAN KIT:
Okay, now work with me here. The FAN kit is the LA Sweat training kit in all NAVY BLUE. So this photo you see below? That's our team training kit. See how the top is WHITE? The kit we have for sale is NAVY BLUE through and through. Which you can see in the awesome rendering from Castelli. Why is the kit we're offering different from the one our team wears? Email us and ask. Or just deal with it :) And slip into this super rad, super fly, super svelte, stylish kit. And support our bad ass group of fricking fast women.
BASICALLY, What we're offering to the public is a navy version of our kit. The NAVY, once printed will be lighter, because it'll be on Castelli's awesome aero materials. The BIBS on the other hand will be exactly like ours.... #TWINNING!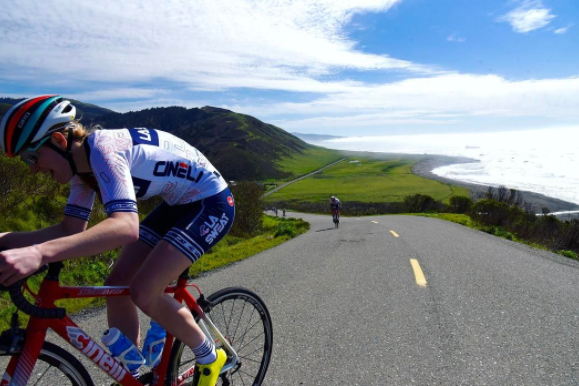 (seriously, they're fantastic)